Latest news
28.03.2013 - Latest budget Zeitronix wideband kit in stock. Brand name and economy in one package!
5.01.2013 - Happy new year! Bosch EV6 / 14 and Nippon Denso injector plugs now in stock
02.06.2012 - Follow us on Facebook! Search for EFI Parts
15.01.2012 - EFI-Parts invites you to our rolling road open day on Sunday 5th Feb. 2WD power runs and special offers available on the day.
03.01.2012 - Website: We have a new UK based web host to replace the slow, problematic one that we had before. Apologies for any inconvenience you may have experienced.
Home > Adaptronic ECU's
EFI-Parts is the UK distributor for Adaptronic engine management
For special orders not listed please contact us via email
Adaptronic 440 Universal ECU & 2m Loom

Price: £999.00
Stock: In stock

Nearly all items are dispatched immediately but certain expensive & infrequently requested items may have a lead time. If an items delivery is to be delayed for any reason it will say so in the product description below.
The Adaptronic 440/Select ECU and 2m bare loom package

The 440/Select ECU is the full-featured progression of the 420d model. It is a logical progression of the older e420c model; enhancements include more RAM for future firmware updates, faster proccessing, USB (and RS232) connectivity, a headphone jack for knock monitoring and a list of new firmware features.

Users of the 420c or 420d will be pleased to hear that the 440 uses the same intuitive "WARI" software as before. The 440 will accept map files created for the 420 with only minor additional settings required, therefore upgrading from a 420 is a quick and painless procedure.

Just like the 420, the user can use as few or as many of the ECU features as they want. If you're a novice, don't let the ECU's long list of advanced features put you off! You can simply ignore what you don't need right now and be happy in the knowledge that those features are available should you want them in the future.

Main features include:


"3D" Fuel and Ignition maps (as on any sophisticated aftermarket ECU)
Configurable ignition and injection outputs to suit different applications
Up to 3 VR or digital crank and cam angle inputs
Inputs for water temperature, air temperature, auxiliary temperature (eg turbo), external Manifold Air Pressure sensor, Throttle Position Sensor, knock sensor, EGO (exhaust gas oxygen)
Internal MAP sensor suitable for up to 40 psi of boost
Outputs for four injector groups - allows full sequential injection up to 4-cylinders, or semi-sequential injection up to 8- cylinders
Outputs for four igniter groups - allows full sequential spark up to four cylinders and wasted spark systems up to 8-cylinders, or any conventional distributor systems
Eight configurable auxiliary outputs - four of which are configurable as high current outputs, three of which are PWM capable
Eight configurable digital inputs
Numerous diagnostic LEDs, including LEDs to indicate trigger input detection and injector/ignition outputs
3.5mm headphone jack for listening to knock
PC interface via USB cable
Field upgradeable firmware
Datalogging via 'WARI' PC software
Free support by forum, email and phone
12 month 'return to base' warranty
Adaptive fuel control - with configurable tolerances and loop gains, and conditions under which adaptive behaviour takes place
Narrow-band (factory EGO sensor) closed loop fuel control
Flex Fuel control (requires fuel composition sensor to be fitted)
High current programmable outputs - allows direct drive of solenoid valves for boost control, air bypass etc
Special function programmable outputs - allows control of anti-pollution purge valves, air conditioners etc
Open-loop and closed-loop idle bypass control - allows configuration of increased idle bypass amount based on low battery, electrical load, air conditioner, as well as correction based on RPM, optional ignition timing control for idle speed regulation
Programmable for many different crank/cam angle sensor waveforms
Open-loop and closed-loop boost control
Dual closed-loop variable valve timing (VVT) channels
Traction control and launch control (2 step)
Boost control by gear (gear detection inbuilt)
Pit lane speed limiter
Dimensions, excluding mounting tabs - Width x Height x Length (mm) is 102 x 32 x 125
If you have any questions regarding suitability for your project, don't hesitate to get in touch with us.





Rear panel with OEM quality connectors: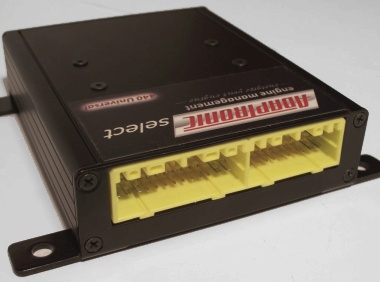 Included 2m long bare ended loom: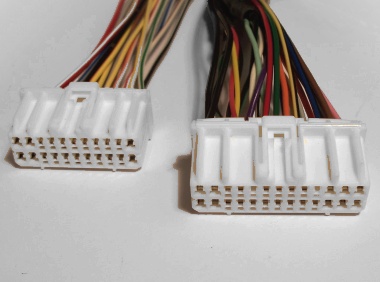 The 440/Select ECU and loom package is kept in stock for immediate dispatch.



Further information is available here on Adaptronic's own website: Product description

You can download the WARI Tuning software (free) and documentation on our downloads page here
---
Other items that may be of interest:
---
If you have any questions about the Adaptronic 440 Universal ECU & 2m Loom
then you can ask them here: